Since the patches for ProxyLogon problems were still not fully installed, attackers continue to attack vulnerable Microsoft Exchange servers. Now researchers from Cybereason Nocturnus have discovered the Prometei botnet, which mines Monero cryptocurrency on vulnerable machines.
In early March 2021, Microsoft engineers released unscheduled patches for four vulnerabilities in the Exchange mail server, which the researchers gave the general name ProxyLogon ( CVE-2021-26855 , CVE-2021-26857 , CVE-2021-26858 and CVE-2021-27065 ).
These vulnerabilities can be chained together and exploited to allow an attacker to authenticate on the Exchange server, gain administrator rights, install malware, and steal data.
Already in March, attacks on vulnerable servers were carried out by more than 10 hack groups, deploying web shells, miners and ransomware on the servers.
According to statistics released by Microsoft last month, approximately 92% of all Internet-connected Exchange servers have already received patches.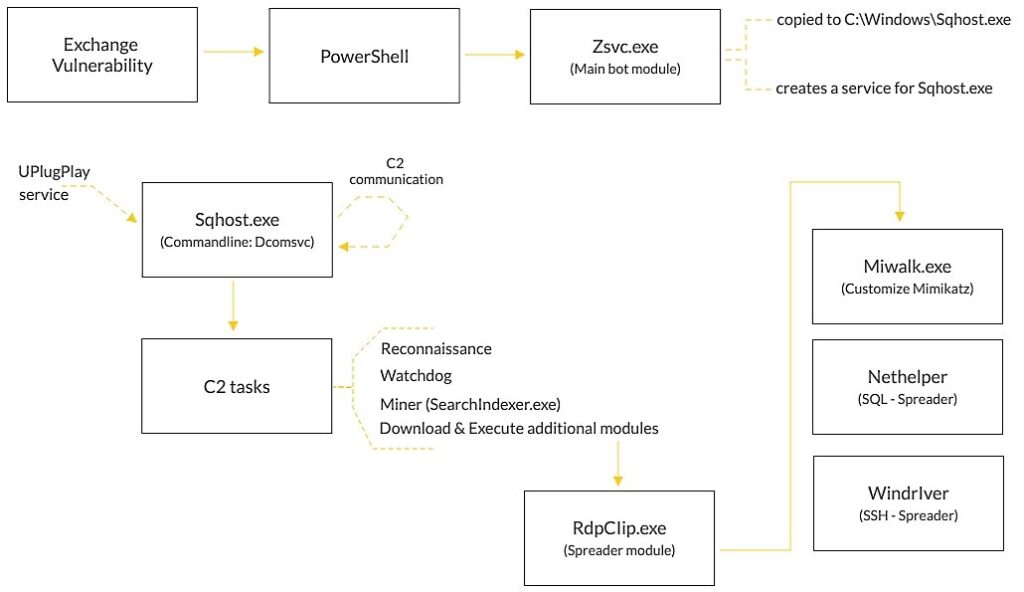 This modular malware was first detected last year. It is capable of infecting Windows and Linux systems, and has previously used the EternalBlue exploit to spread over compromised networks and compromise vulnerable machines.
Cybereason Nocturnus experts write that Prometei is active at least 2016 (judging by the samples uploaded to VirusTotal). The botnet was recently updated and "learned" how to exploit ProxyLogon vulnerabilities. Thus, now Prometei attacks Exchange servers, and then installs payloads for mining on them, and also tries to spread further along the infected network using the EternalBlue and BlueKeep exploits, detected credentials and modules for SSH or SQL.
The updated malware has backdoor capabilities with support for an extensive set of commands, including downloading and executing files, searching for files on infected systems, and executing programs or commands on behalf of the attackers.
"If desired, attackers can infect compromised endpoints with other malicious programs and cooperate with ransomware operators, selling them access to systems," the researchers warn.