Microsoft said last November its DDoS protection platform repelled a massive DDoS attack targeting an Azure customer in Asia. The attack power was 3.47 Tb/s.
Let me remind you that in October last year, the company reported another DDoS record: then Microsoft wrote that it had coped with a 2.4 Tb / s attack aimed at an unnamed European client of the Azure platform. The DDoS attack used approximately 70,000 bots, mostly from the Asia-Pacific region (Malaysia, Vietnam, Taiwan, Japan, and China), but also from the United States.
As it turned out now, the strength checks of Azure DDoS Protection did not end there. In November and December 2021, specialists encountered even larger incidents, whose peak power reached 3.47 Tb / s and 340,000,000 packets per second. At the same time, the peak power of another attack was 3.25 Tb/s (UDP attack on ports 80 and 443), and the third attack was 2.55 Tb/s (UDP flood on port 443).
These attacks, which target an unnamed Microsoft Azure customer in Asia, are the most powerful known to date. It is reported that more than 10,000 sources from all over the world were involved in organizing DDoS, including the United States, China, South Korea, Russia, Thailand, India, Vietnam, Iran, Indonesia and Taiwan.
Official statistics also report that in the second half of 2021, Microsoft repelled almost 2,000 DDoS attacks per day, that is, 40% more than in the first half of 2021. The total number of attacks directed at the company's customers in the second half of the year was about 360,000.
In terms of attack vectors, UDP attacks continued to be the most common in the second half of 2021, accounting for 55% of all incidents, followed by TCP attacks, which decreased from 54% to 19%.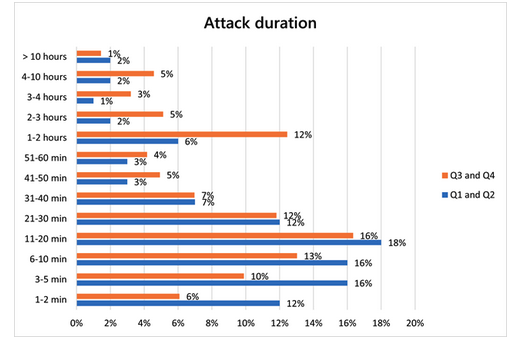 The gaming industry has been the hardest hit by DDoS, but Microsoft also warns of an increase in attacks on financial institutions, media, ISPs, retailers and supply chain organizations.